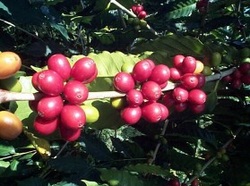 Aloha to all who appreciate quality coffee & bananas
Lafayette Kona Farm is a small family farm that just happens to be located on some of the very special Kuleana Lands, which in upland areas, were the choice garden lands of Old Hawaii.
Here, one can see for themselves the unusually high level of natural fertility. We are located at the perfect 1600 ~ 1700' elevation, and lava has not covered these lands for more than 10,000 years. That's a long time around here! This area is an island of rich volcanic soil surrounded by newer lava flows. The rainfall is as predictable as the sunny mornings. These natural advantages coupled with an intense organic amendment program results in coffee, avocados, and bananas that perform extremely well.
Simply put, happy trees produce large sweet coffee cherries, avocados and bananas. And because they are organically grown, they naturally tastes better.
Another aspect of our coffee operation is that we pick most of the coffee ourselves. This is where being small makes a big difference. All coffee farms claim to pick only the red beans, but it is very difficult to equal the quality of owner picked coffee!


---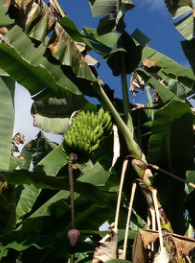 Shogo`s banana patch is a beautiful sight to see. Located in a dirt valley, wildly fertile, you can almost see them grow before your very eyes. The valley floor is a treasure of rich, black dirt. Add sunshine and rain and you have the perfect banana. We grow the classic tall apple banana variety, Hawaii's old school favorite, but not commonly available everywhere.
We offer our bananas in 6 ounce bags, bulk bananas by the pound, as well as our new 2 ounce bag which is perfect as a stocking stuffer, in a lunch box, at the beach or in an airplane... wherever you need a fast, healthy treat.

---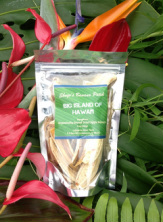 We offer our products at very competitive prices. We love what we do, and are very connected to the land that we have the honor to farm in this life. Our products are organically grown, and our coffee is handpicked and sun dried the old fashioned way. It is then roasted in small batches in order to maintain optimum freshness.
Our bananas grow effortlessly in near perfect conditions, truly a joy to watch them grow large clean bananas, so quickly.
Our avocados come ripe in the dry season winter months when the change of weather and cooler nites nurture them to perfection.
Its a fun business, and our pleasure to offer our small family farm products for the enjoyment of our esteemed clientele.
Thanks for visiting our site!

Andy and Kazune Lafayette
and boys, Kaito and Shogo




---